BACKYARD BABIES & THE BONES - + Support: The Wildhearts
BACKYARD BABIES &nbsp
Quellenstraße 7
70376
Stuttgart
Event organiser: Music Circus Concertbüro GmbH & Co. KG, Charlottenplatz 17, 70173 Stuttgart, Deutschland
Event info
BACKYARD BABIES - BIO

For 30 years, Backyard Babies has delivered top of the line rock´n´roll, both live and recorded. The fact that the original four guys that started the band still are playing together, is next to unique.
The new album "Sliver & Gold" was recorded in the classic Park Studios (also known as the "Psych Bunker") and produced by the legendary Chips Kiesbye (known from Sator among others). Fittingly, the first single from the album - "Shovin' Rocks" - is about "30 years of rock'n´roll".
But let´s take it from the top.

THE BONES are back in the ring with another swing!

Is it really already five years ago since Sweden's finest Punk'n'Roll outfit took over our stereos with
"Burnout Boulevard"? Apparently it is, but the good news is: the wait is over. On "Monkeys With Guns",
the fifth studio album in their enduring career, THE BONES are back blazing with 15 (17 on the Limited Edition and LP) blistering, hard hitting new tracks of perfect Punk'n'Roll marriage material made in hell.

THE WILDHEARTS

For 3 decades The Wildhearts have remained at the forefront of the British rock scene. From their classic debut album 'Earth Vs' (voted number one album of the year in Kerrang! back in 1993, and number 20 in the best rock albums of all time in a Kerrang! Special in 2006), through to now with the release of 'Renaissance Men', their first full-length studio album in 10 years, their creative output and legendary live shows have been second to none.
Creatively brilliant, The Wildhearts helped change the landscape of British rock through the 90's, and to this day they haven't shown any sign of slowing down.
Here's to the next decade.
Location
Im Wizemann
Quellenstraße 7
70376 Stuttgart
Germany
Plan route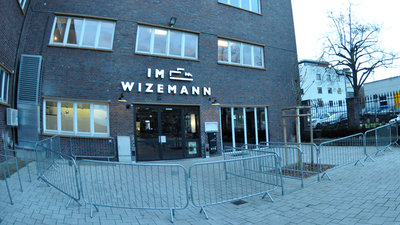 Das Wizemann Areal an der Stuttgarter Wilhelma atmet den Geist der Vergangenheit: Früher war es Heimat einer Firma für Automobil-Bauteile, heute finden sich hier verschiedene kreative, beratende und handelnde Unternehmen. Eines davon ist die Eventlocation "Im Wizemann", die mit einer Halle, einem Club und einem Restaurant aufwartet. Hier finden verschiedenste kulturelle Veranstaltungen statt.

Ende der 1990er Jahre wurde erstmals ein Veranstaltungsort an dieser Adresse eröffnet – das legendäre Zapata. Als dieses 2013 das Areal verließ, rückte das "Im Wizemann" nach. In atemberaubendem Tempo wurde die Location umgebaut und an die Zeit angepasst. Die Halle ist das Herzstück der Anlage und bietet bis zu 1300 Gästen Platz, inklusive aktuellster Tontechnik und allen modernen Annehmlichkeiten. Einen schönen Kontrast dazu bietet das raue Ambiente, welches den Charme des industriellen Zeitalters versprüht. Im Club kann nach der Veranstaltung gefeiert, im Restaurant "Happen" gegessen werden.

Das "Im Wizemann" ist am besten mit der U13 über die Haltestelle Glockenstraße (Mahle) zu erreichen. Mit dem Auto kommt man über die Pragstraße (B10) zum Veranstaltungsort, ab der Quellenstraße ist die Location ausgeschildert. Kostenpflichtige Parkplätze (Veranstaltungstarif) stehen vor Ort zur Verfügung.