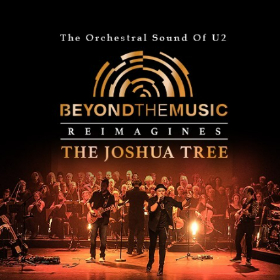 Fans guter Musik aufgepasst! Zwischen dem 2. und 10. Mai 2023 tourt die Coverband "Beyond The Music" durch ganz Deutschland. Mit im Gepäck haben die Iren das beste Album der Erfolgsband U2: "Joshua Tree"! Gemeinsam mit dem von Piotr Oleksiak geleiteten Royal Music All Orchestra verleiht "Beyond The Music" den U2-Songs einen neuen Sound, der den Originalstücken an Tiefgang in Nichts nachsteht. Lassen Sie sich ein weiteres Mal von dem Stadion-Rock U2s begeistern. Sichern Sie sich jetzt Tickets und freuen Sie sich auf eine einzigartige Bühnenshow! 

Rhythmisches Schlagzeug, dröhnender Bass, experimentelle Gitarren und ein eingängiger Gesang – das erwartet das Publikum bei einem Auftritt von "Beyond The Music". Und da es sich bei den Bandmitgliedern um eingefleischte Iren handelt, sind ordentlich Stimmung, pure Lebensfreude und Heiterkeit quasi im Programm enthalten. 

Die irische Band "Beyond The Music" wurde gegründet, um ikonische Bands und deren Musik aus dem Classic Rock zu würdigen. Jeder Song wird dabei mit orchestralen Elementen angereichert. Ihr Debüt feierte "Beyond The Music" mit dem Album "Beyond the Music REIMAGINES The Joshua Tree". Der Sänger der Band Nigel Connell und der Pianist Mark Cahill schrieben dabei die U2-Songs für die Neuaufnahme mit dem Prague FILMharmonic Orchestra um. 

Überzeugen Sie sich selbst und wohnen Sie einer mitreißenden Live-Veranstaltungen von "Beyond The Music" bei. Holen Sie sich Tickets!
Source: Reservix