hr-Sinfoniekonzert | Porgy and Bess
Opernplatz 1
60313
Frankfurt am Main
Tickets from €17.00
Concessions available
Event organiser: Hessischer Rundfunk, Bertramstr. 8, 60320 Frankfurt am Main, Deutschland
Event info
PORGY AND BESS
Artist in Residence | Pariser Sinfonien

IVETA APKALNA | Orgel
ADINA AARON | Sopran
NMON FORD | Bariton
CAPE TOWN OPERA CHORUS
ANDRÉS OROZCO-ESTRADA | Dirigent

Samuel Barber | Toccata Festiva – für Orgel und Orchester
George Gershwin | Ein Amerikaner in Paris
George Gershwin | Porgy and Bess – Auszüge

Im afroamerikanischen Ghetto der US-Hafenstadt
Charleston spielt George Gershwins
»Porgy and Bess«, hier wird mit »Summertime«
eines der berühmtesten Lullabies angestimmt,
manche Songs wurden Evergreens. Urban und
plastisch hat Gershwin auch sein Städteporträt
»Ein Amerikaner in Paris« gestaltet, er selbst
hatte den Straßenlärm und die französische
Atmosphäre der Seine-Metropole vor Ort studiert.
Das erste Werk des Abends macht Appetit
auf die neue Saison: Mit Samuel Barbers
»Toccata Festiva« ist erstmals die Star-Organistin
Iveta Apkalna als neue »Artist in Residence«
zu erleben.

___________

George Gershwin's »Porgy and Bess« plays in
the Afro-American ghetto of the US port city of
Charleston. Its »Summertime« aria has become
one of the most famous lullabies and some of the
songs are real evergreens. Gershwin's city portrait
»An American in Paris« is also highly urban and
vivid; the composer actually went to Paris to study
the street noise and the French atmosphere of
the city on the Seine himself. The first work of
the evening will whet your appetite for the new
season: The new »Artist in Residence« Iveta
Apkalna can be heard for the first time playing
Samuel Barber's »Toccata Festiva«.
Location
Alte Oper
Opernplatz 1
60313 Frankfurt am Main
Germany
Plan route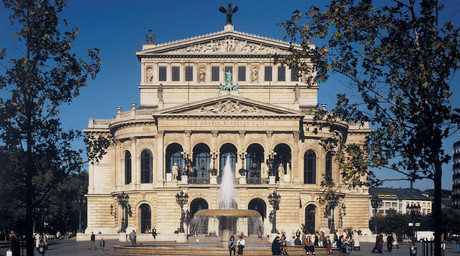 Mitten in der Frankfurter Innenstadt steht die "Alte Oper Frankfurt". Sie lockt mit Konzerten und Veranstaltungen der Spitzenklasse. Künstler wie Martha Argerich, Alfred Brendel oder Hélène Grimaud, sowie die "Berliner Philharmoniker" sind hier schon aufgetreten.

Seit 1880 bietet die "Alte Oper Frankfurt" Raum für Musik und Feste. Daran konnten auch "Dynamit-Rudi´s" Pläne, das Gebäude in die Luft zu sprengen, nichts ändern. Und seit der Eröffnung zieht die Oper prominente Künstler und Gäste an. Kaiser Wilhelm der 1. kam zur Eröffnung zu Besuch und Carl Orffs "Carmina Burana" wurde hier 1937 uraufgeführt. Und so hat sich zwischen den Bürotürmen ein wichtiges Stück Stadtgeschichte gehalten. Dem Schriftzug über dem Eingang "Dem Wahren, Schönen, Guten" entsprechend, ist die "Alte Oper Frankfurt" ein Garant für ein tolles Programm und unvergessliche Konzertabende. Der große Saal bietet mit 2500 Sitzplätzen genug Platz für große Konzerte, der "Mozartsaal" schafft mit 700 Plätzen eine intimere Atmosphäre.

Die "Alte Oper Frankfurt" ist eine feste Kulturinstitution. Sie genießt weit über das Rhein-Main-Gebiet einen sehr guten Ruf. Hier wird Kunst perfektioniert.