Verschoben
Bisheriges Datum:
Kings Of Floyd - High Hopes Tour - Club-Show
Kings Of Floyd &nbsp
Geschwister-Scholl-Platz 4-6
42275
Wuppertal
Event organiser:
Live Club Barmen, Geschwister-Scholl-Platz 4-6, 42275 Wuppertal, Deutschland
Event info
Foto © Marc Gillespie
Location
Haus der Jugend Barmen / Live Club Barmen
Geschwister-Scholl-Platz 4-6
42275 Wuppertal
Germany
Plan route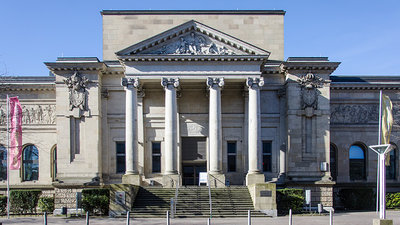 Im Haus der Jugend ist immer was los: Ein abwechslungsreiches Programm bietet allen Altersgruppen spannende Veranstaltungen aus den Bereichen Konzert, Theater, Literatur und Kabarett.

Das Haus der Jugend befindet sich in der ehemaligen Barmer Ruhmeshalle im Wuppertaler Stadtteil Barmen. Ende des 19. Jahrhunderts erbaut, glänzt das Gebäude im Stil der Neorenaissance und gibt den Veranstaltungen des Hauses einen entsprechend feierlichen Rahmen. Neben dem Haus der Jugend befinden sich dort Ausstellungsräume der Kunsthalle Barmen, die Barmer Stadtbibliothek und der Live Club Barmen. Das Haus der Jugend widmet sich ganz seinem kulturellen Auftrag. Theaterprojekte mit Kindern und Jugendlichen, Tanzevents oder Konzerte sind nur einige der zahlreichen Veranstaltungen, die angeboten werden. Als Kulturzentrum fungiert das Haus der Jugend als Plattform für alle, die Spaß an Kultur haben und sich gerne in der Kulturarbeit engagieren möchten. Im Vordergrund steht dabei die Qualität der Veranstaltungen, die durch bezahlbare Preise allen Interessierten die Möglichkeit gibt, am kulturellen Leben in Barmen teilzunehmen.

Das Haus der Jugend bietet das ganze Jahr über ein facettenreiches Angebot, bei dem Filmfreunde, Musikfans und Theaterenthusiasten gleichsam auf ihre Kosten kommen!