The Bach Choir of Bethlehem (USA) - Konzert mit Chor, Solisten und Kammermusikensemble
Dirigent: Greg Funfgeld &nbsp
An der Kreuzkirche 6
01067
Dresden
Tickets from €20.00
Concessions available
Event organiser: tristan Production | Management | Event UG (Haftungsbeschränkt), Alaunstraße 68 a, 01099 Dresden, Deutschland
Information on concessions
Ermäßigung gilt für Schüler*innen, Studierende, Arbeitslose, Auszubildene und Dresdenpass Inhaber*innen sowie Personen mit Schwerbehinderung mit B im Ausweis. Für Begleitpersonen ist der Eintritt frei. Karten für die Begleitperson können unter 01806 700 733 gebucht werden.

Bitte die entsprechenden Berechtigungsausweise unaufgefordert vorzeigen.
Event info
The Bach Choir of Bethlehem
EUROPEAN TOUR 2020
Greg Funfgeld, Artistic Director & Conductor
Kompositionen von Johann Sebastian Bach, Heinrich Schütz, Felix Mendelssohn Bartholdy, Franz Bieber und Benjamin Britte


Programm Kreuzkirche Dresden

Johann Sebastian Bach – Arias and Duets from Cantatas 8, 78, 99, and 130
Johann Sebastian Bach – Motet, Lobet den Herrn
Robert Parsons – Ave Maria
Heinrich Schütz – Cantate Domino
Felix Mendelssohn – Richte mich, Gott ( from Drei Psalmen, Opus 78)
Wolfgang Amadues Mozart – Laudate Dominum
Franz Schubert – Der 23. Psalm – Gott ist mein Hirt
Franz Biebl – Ave Maria
Warren Martin – Great Day
arr. Shawn Kirchner – Unclouded Day


VOCAL SOLOISTS and BACH FESTIVAL ORCHETRA PRINCIPALS FOR ALL CONCERTS
Nola Richardson, soprano
Janna Critz, mezzo-soprano
Benjamin Butterfield, tenor
Dashon Burton, baritone

Elizabeth Field, violin
Robin Kani, flute
Mary Watt, oboe
Loretta O'Sullivan, cello
Charlotte Mattax Moersch, portative organ
Thomas Goeman, organ
Location
Kreuzkirche
An der Kreuzkirche 6
01067 Dresden
Germany
Plan route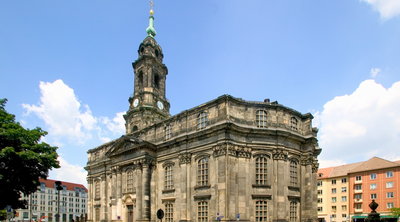 Die Kreuzkirche in Dresden ist in vieler Hinsicht von zentraler Bedeutung für die sächsische Landeshauptstadt: Als größte Kirche Sachsens, Hauptkirche der Stadt und Predigtkirche des Landesbischofs ist sie geistliches Zentrum sowie Mittelpunkt des kirchenmusikalischen Schaffens. Durch die Lage am Altmarkt, inmitten von Dresden, ist die Kreuzkirche oft Ausgangspunkt vieler Stadterkundungen und bietet mit ihrem Turm auch einen tollen Panoramablick, um sich einen ersten Eindruck der Stadt zu verschaffen.

Die Kreuzkirche blickt auf eine lange, wechselvolle Geschichte zurück: Bereits seit dem 12. Jahrhundert gab es am heutigen Altmarkt eine Kirche, damals noch unter dem Namen Nicolaikirche. Erst 1388 wurde sie zur Kreuzkirche geweiht und kurz darauf zu einer großen gotischen Hallenkirche umgebaut. Nach einem verheerenden Brand musste die Kirche 1491 komplett neu errichtet werden und wurde bis zu ihrer nochmaligen Zerstörung im Zweiten Weltkrieg mehrmals dem Zeitgeist entsprechend neu gestaltet. Die Innenausstattung präsentiert sich dabei als eher schlicht, ausgenommen der Altar mit Bronzerelief und die Orgel, die sich als wahrer Blickfang herausstellen.

Besondere Bedeutung kommt von jeher der Kirchenmusik zu, die schon seit dem Mittelalter ihr Zentrum an der Kreuzkirche gefunden hatte. Der Dresdner Hof und damit auch die Kreuzkirche waren oft Wirkungsstätte herausragender Musiker, beispielsweise von Heinrich Schütz. Seit Jahrhunderten festigt der Dresdner Kreuzchor die Stellung der Kreuzkirche als kirchenmusikalischer Standort. Als einer der ältesten und berühmtesten Knabenchöre der Welt bestreitet er zahlreiche gefeierte Konzerte jährlich.