Zu Ihrer Sicherheit und der weiteren Eindämmung des Coronavirus finden alle Veranstaltungen unter Einhaltung der gesetzlichen Vorschriften statt. Bitte beachten Sie die Hygienemaßnahmen vor Ort.
Rescheduled
Previous date:
The Black Crowes - Hard to Handle - Meet & Greet Upgrade
Sylvesterallee 10
22525
Hamburg
Event organiser:
RBK Fusion GmbH, Reichenberger Str. 36, 10999 Berlin, Deutschland
Event info
Das Hard to Handle - Meet & Greet Upgrade Package beinhaltet:

* Früher VIP Eintritt in die Venue
* Exklusives Meet & Greet mit The Black Crowes vor der Show
* Persönliches Foto mit The Black Crowes
* Shake Your Money Maker-Flasche
* Signiertes Shake Your Money Maker-Kartendeck
* Shake Your Money Maker-Würfelset
* Shake Your Money Maker-Gesichtsmaske
* Offizielles Meet & Greet Lanyard
* VIP-Gastgeber vor Ort
* Sehr limitierte Auflage der Packages!
Event location
Barclays Arena
Sylvesterallee 10
22525 Hamburg
Germany
Plan route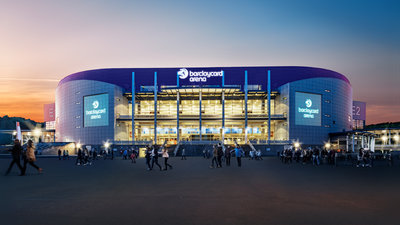 Die Barclays Arena gehört seit ihrer Eröffnung im November 2002 zum festen Stadtbild der Hansestadt Hamburg. Mehr als 1.600 Konzerte der berühmtesten Bands und Musiker der Welt, Shows für alle Altersgruppen und die verschiedensten Sportveranstaltungen fanden in der größten Multifunktionsarena Norddeutschlands, die bis zu 16.000 Personen Platz bietet, statt.

Seit dem Herbst 2007 ist die Barclays Arena Teil der Anschutz Entertainment Group, einer Tochtergesellschaft der Anschutz Corporation, die zu den weltweit führenden Unternehmen im Bereich Live Entertainment und Sport gehört. Ab dem 1. Juli 2015 konnte schließlich Barclays Deutschland als Namensgeber gewonnen werden. Pro Jahr strömen mehr als eine Million Besucher zu den mehr als 130 Veranstaltungen in die Arena.

Erleben Sie Live-Entertainment hautnah!